News
Kinstellar appoints new Heads of Data & Cybersecurity, IP&T and Telecoms service lines
December 2021 – Kinstellar is delighted to announce the new Service Heads leading our TMT-related service lines:


In their new roles as Service Heads they will work with the firm-wide TMT sector team and other sectors to expand and bring a new dimension to our current capabilities across these areas. They will be the first points of contact for incoming client requests and will engage the right lawyers from our team best suited to work on transactions for our clients.
Viliam Myšička, head of Kinstellar's TMT sector comments: ''They are all outstanding individuals, valuable and trusted advisers to our clients, and I am confident that together we will build a solid and successful service for our clients. I thank them for their dedication, commitment, hard work and team spirit and wish them the best of luck in their new roles. Congratulations, and I look forward to working together!''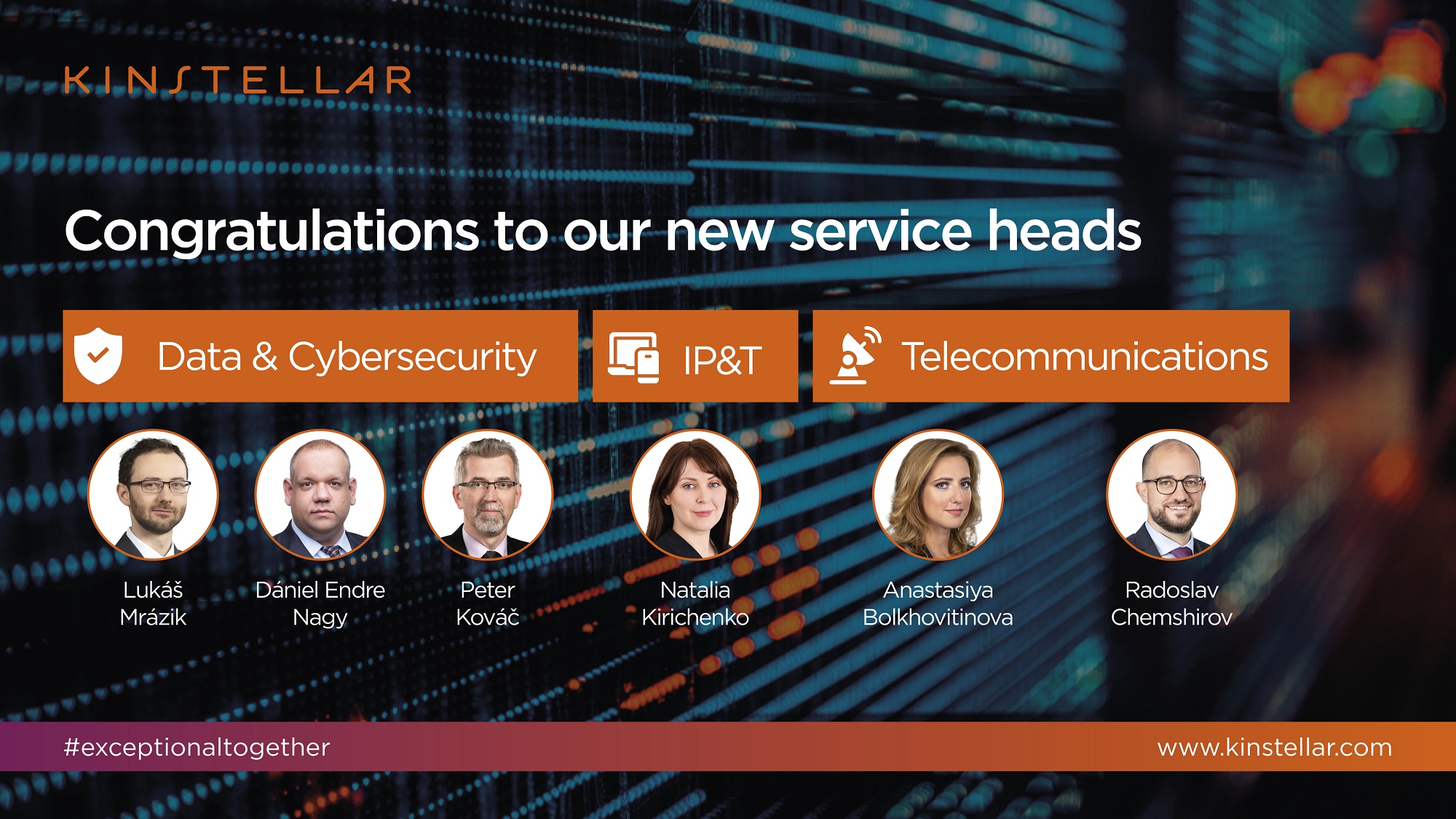 The New Team
Data & Cybersecurity Co-Heads

Lukáš Mrázik | Senior Associate, Slovakia
Lukáš has over 7 years of experience focusing on data & cybersecurity, intellectual property and corporate matters. Prior to joining Kinstellar, he worked in London as an Associate at a global consulting firm owned by a leading technology company, where he assisted on privacy and data protection issues and all aspects of GDPR implementation.
Lukáš holds CIPP/E, CIPT and CIPP/US certifications awarded by the International Association of Privacy Professionals.
His recent experience includes advising:
THERMO FISHER SCIENTIFIC

on extensive privacy-related risk reviews and on numerous data processing agreement negotiations with their EU-based customers and vendors

FACEBOOK

on various multijurisdictional compliance and data protection projects

ZSE (E.ON Group)

on a large volume of legitimate interest and data protection impact assessments

Dániel Endre Nagy | Senior Associate, Hungary
Dániel is the head of the Technology, Media and Telecommunications (TMT) service in the Budapest office. His expertise includes data protection, data privacy, intellectual property law, copyright law and technology. Dániel has extensive experience handling privacy, GDPR and data protection issues, trademarks, a broad range of IP agreements, as well as software license, development, and various sector-specific contracts (e.g., IT, automotive and financial services). He has conducted scores of data protection compliance projects based on GDPR and provided privacy advice to companies that process large amounts of personal data.
Recent engagements include advising:
NANUSHKA

, a Hungarian high fashion brand, on a data protection compliance project

A HUNGARIAN INVESTMENT FUND

focusing on commercial real estate, on a series of GDPR compliance projects regarding large, newly developed office buildings in Hungary

ONE OF THE LARGEST HUNGARIAN IT SERVICE PROVIDERS

supporting financial institutions on a highly innovative workplace analytics solution

Peter Kováč | Of Counsel, Slovakia
Peter is Of Counsel in the Bratislava office. He focuses on the life sciences & healthcare sector, dispute resolution, compliance, risk and sensitive investigations, white-collar crime, and TMT. He has 15+ years of experience in the area of computers and criminal law and previously served as head of the legal department at the Slovak anti-virus software developer ESET.
Peter's recent engagements include advising:
SWISS RE MANAGEMENT

on data protection matters related to a simulated data breach
Peter has a strong academic background and extensive professional experience in both criminal and medical forensic law. He is an expert witness in forensic pathology, serology, toxicology and alcohology and a sworn expert witness registered with the Ministry of the Justice of the Slovak Republic.


IP&T Head

Natalia Kirichenko | Counsel, Ukraine
Natalia advises clients on a broad range of intellectual property matters, both contentious and non-contentious, including IP protection strategies, managing IP portfolios, customs surveillance and commercial contracts (e.g., franchising, licensing, distribution and R&D agreements). She has broad experience in transaction structuring and advises on IP issues relating to major M&A projects.
Natalia also advises major companies doing business in Ukraine on advertising, sponsorship and unfair competition issues. She has extensive experience counselling clients on telecom regulatory issues, including as part of M&A transactions in the telecommunications sector.
Recent engagements include advising:
STILLFRONT in relation to the acquisition of Game Labs Inc., including conducting due diligence on IP, preparation of IP-related transactional documents and other on-going support from the IP law perspective

NEQSOL HOLDING

in relation to the acquisition of one of the largest telecom operators in Ukraine, including conducting an IP due diligence of the target company, advising on IP and telecom regulatory matters, preparation of IP-related transactional documents and other support from the IP law perspective


Telecommunications Co-Heads

Anastasiya Bolkhovitinova | Counsel, Ukraine
Anastasiya is the head of the TMT sector in Kyiv. She has more than 18 years of experience advising clients in the technology, telecommunications, aerospace, and defence industries. She advises clients on a broad range of corporate and M&A issues, including the structuring of mergers and acquisitions, joint ventures, corporate restructurings, commercial and procurement contracts, as well as on issues relating to entering the Ukrainian market and further expansion.
Anastasiya also advises technology-sector clients on structuring their operations in Ukraine. She provides complex support in technology-sector M&A deals and advises both start-ups and venture capital and private equity investors on a wide range of legal matters.
Anastasiya's telecom experience includes advising:
ONE OF THE LARGEST MOBILE OPERATORS IN UKRAINE

on the implementation of spectrum re-farming, review of the documents concluded between major Ukrainian mobile network operators and the regulator, and advising on the risks that may arise in the process of project implementation as well as on mitigation measures. This was one of the most important telecom projects initiated by the Ukrainian government, with the aim to ensure LTE coverage of rural areas. The project involved extensive regulatory advice.
POLHEM INFRA on the successful completion of the acquisition of Telia Carrier from Telia Company, at an enterprise value of SEK 9,450 million (approximately EUR 1 billion). Work included full transactional support to Polhem Infra in Ukraine, conducting telecom regulatory due diligence, preparing the regulatory parts of transactional documents within the acquisition, and advising on the Ukrainian legal aspects of the deal

SEVERAL WORLDWIDE PROVIDERS OF SATELLITE COMMUNICATION AND INTERNET SERVICES

in connection with their contemplated operations in Ukraine

Radoslav Chemshirov | Of Counsel, Bulgaria
Radoslav has over 15 years of experience advising clients on licensing and regulatory compliance in the fields of telecommunications, media, and gambling.
Having worked previously in the Bulgarian regulatory agency responsible for electronic communications, Radoslav is specialised in all regulatory matters related to the media industry. He regularly represents local and international companies in their communications with the regulatory authorities and in contract negotiations.
He has advised on some of the most significant deals in the local telecoms market, including the ACQUISITION ONE OF THE LARGESST BULGARIAN TELECOMS COMPANIES by a well-established telecom provider in Southeast Europe and AN ASSET SALE OF A MAJOR CEE TELECOM OPERATOR across several jurisdictions. He also advises a Romanian telecom company on licensing and day-to-day operations in Bulgaria.
In addition, Radoslav has a strong background in litigation and administrative disputes as well as in corporate investigations and white-collar crime matters.


For more information, please contact Viliam Myšička, Partner and head of TMT, at .